Make a Difference
Volunteers play an important part in the success of our organization and in the lives of our clients. Whether it's sharing your time with a client, playing a game or going for a walk and fostering a friendship along the way, you can make a difference.
Volunteer Opportunities
We have volunteer opportunities to fit a variety of interests and time commitments.
Support for Families: assist in monthly Saturday Fun Respite events and activities
Special Events: assist with a planning committee, set up, clean up and a variety of activities
Valentine Card Making – January
Dinner Theater – February
Flannel Gala – May  cancelled for 2020
Golf Tournament – July
Summer Fun Day – August  cancelled for 2020
Community Thanksgiving – November  cancelled for 2020
Gala – December
College Friends: college students are paired with an LBSA client for weekly visits
Corporate or Team Events: If you have a group looking for a volunteer project, we can match some of our needs with your group's skillset or interest
Internships
Internships at Laura Baker Services Association are flexible, meaningful and unique – perfect for students or those wanting to dig into the field of disability support services. Internships can be customized to meet students' objectives or other personal goals.
"I've been volunteering for LBSA for the last eight years in a variety of different roles and I am honored and feel incredibly fortunate to have LBSA part of my life."– LBSA Volunteer
Sign Up to Volunteer
Interested in making a difference? Please complete the form to get started.

Recognizing Distinguished Service
At the conclusion of Robert (Bob) Bonner's stellar service on the LBSA Board of Trustees, the board chose to honor Bob with a Distinguished Service Award, named in his honor. Annually, we honor those who have made a real difference at LBSA through their constant involvement, time, energy and resources.
Past Award Recipients
Chris and Sheila Kennedy (2018)
Cheryl Buck (2017)
Annette Nierobisz and Rob Morrow (2016)
Charlie and Lorraine Sewich (2015)
Ed and Anne Lundstrom (2014)
Bob and Marilyn Matta (2013)
Mike Hero (2012)
Steve Kelly (2011)
Bill Cowles and Pam Schiele (2010)
2019 Award Recipient
Dave and Ruthie Neuger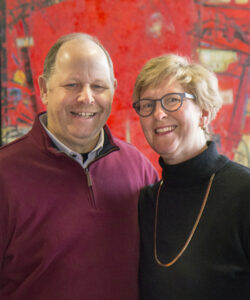 Ruthie and Dave Neuger have been involved with LBSA as donors, volunteers and service vendors. Ruthie is a board member and serves on the trusteeship committee, introducing people to LBSA and encouraging them to get involved. Together, Dave and Ruthie are generous donors and community members. Their associates are far and wide; they find innovative ideas for engaging people. There's not a lot of flash in what they do; there's a lot of substance.