A Continuum of Services
Laura Baker Services Association provides a continuum of supported residential living services so that each individual is best supported in leading a fulfilling life. We create opportunities for individuals with disabilities to design a life they choose, to build self-esteem and to have not only a place to sleep, but a place to call home.
Typical support plans include:
Responsible decision making
Budgeting and money management
Recreation and leisure
Health, wellness, sickness and emergency training
Personal care and hygiene
Meal planning and preparation
Communication
Coping skills and behavior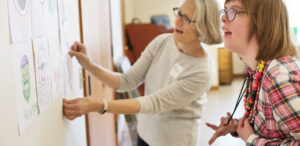 "My daughter was welcomed with open arms at Laura Baker. After moving 10 times in two years, she finally found a place that she could call home. Love, love, love the staff!"

– Mother of Client
Oak Street Services
On-Campus Home Living With Full-Time Care
Oak Street Services provides a home with services for people 16 years or older who, because of their developmental disabilities, are not able to live independently in the community. Clients live in group homes with five other individuals. Amenities include individual bedrooms, bathrooms and common spaces typical of a family home: living room, kitchen, dining area, laundry room and an extra room for exercise, games, crafts or hobbies, sensory equipment and activities.
To learn more, please contact Nicole Laudont.
Community-Based Living
Full-Time Care in Residential Community Homes
Community-based living provides residential services in multiple group homes in Northfield. Each of the homes has 24-hour staffing, providing people with developmental disabilities the support, training and assistance they need to live as independently as possible. Our staff helps clients grow and develop at their own rate in a safe, nurturing and challenging environment with a focus on continued improvement through personal learning programs and support plans tailored to the individual.
To learn more, please contact Tim Hawley.
In-Home Services
Support Services in Your Home Environment
In-home services provides support for individuals with disabilities who are living in their family home or independently in a house or apartment. Staff may work with clients from once a week to several times a week. For a client living with their family, the program provides services needed to enable the family to remain together in a safe and stable environment. For clients living on their own, these services allow continued independence as they grow and learn.
To learn more, please contact Tim Hawley.