Here for You
Supporting someone with special needs can feel overwhelming and isolating. Family Support Services are intended to alleviate some of the stress by creating opportunities for respite, community connections and information sharing. LBSA Family Support Services are supported in part by The Astrup Family Foundation.
Saturday Fun Respite Events
Time for Respite and Social Interaction
A monthly program for families who care for children/adults with intellectual and/or developmental disabilities. Adults and children ages 5 and above with special needs who live at home with their families are welcome to join LBSA on the second Saturday of the month for crafts, games, outdoor activities and snacks.
The events are designed to provide a few hours of respite for caregivers and social interaction for participants. Pre-registration is required.
A $20 per person fee is charged for each event; fee waivers are available for those that qualify.
Saturday Fun days are back!
Join us for Saturday Fun from 1 to 5 p.m. on the following dates in 2023:
June 3
July 8
August 12
September 9
October 14
November 11
December 9
Families must complete an enrollment medical form prior to the event.
LBSA Saturday Night Gaming
Connect & Play @ LBSA
Join us for a fun and inclusive event designed specifically for teens (15 and older with parent's consent) and young adults with autism and other intellectual disabilities! We're excited to offer an evening of gaming, socializing and snacks in a fun inclusive environment.
At our event, you'll have the chance to connect with others who share a similar passion for video games. Whether you're a seasoned gamer or just starting out, there's something for everyone. We'll have a variety of games available, so you can play what you love or try something new.
Details
Held from 6 to 9 p.m. once each month at LBSA's Oak Street Campus*
Cost is $20.00
Refreshments are provided
Participants must be 15 years or older (with guardian consent)
* Game Night will be hosted at the Laura Baker Campus, 211 Oak Street, Northfield. We will be in the Assembly Room at the back of the main administration building.
Dates
Join us for Saturday Gaming from 6 to 9 p.m. on the following dates in 2023:
June 3
July 8
August 12
September 9
October 14
November 11
December 9
Attendees are welcome to submit game suggestions, but we may not have all games requested. At times, all consoles may be in use by other players, and some guests will be spectators to the onscreen action.
Family Support Meetings
Sharing Experiences to Create an Inclusive Community
Every quarter, families with children and young adults with intellectual and/or developmental disabilities gather to meet with LBSA Executive Director Sandi Gerdes to share their experiences and discuss the ways in which they can create an inclusive community that understands how to best support people with disabilities.
Staff Contact
Sam Gershman
Family Navigation Specialist
Main: 507-645-8866 Ext. 124
Direct: 507-581-7078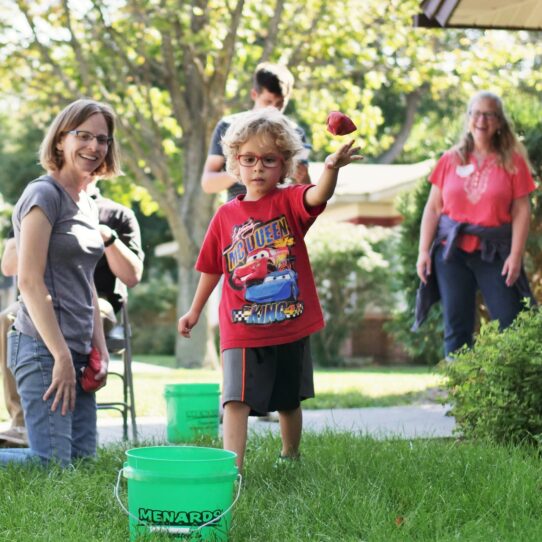 Respite Volunteer Opportunities
Community volunteers staff Saturday Fun respite events, helping with games and activities, childcare and more! Interested? Get involved!