Meet Wendell
For 125 years, creative arts have been an important part of life at Laura Baker Services Association (LBSA). Wendell Arneson knew from the age of six that he wanted to be an artist. So, it's no surprise that LBSA and the local award-winning artist eventually found each other.
"I knew I either wanted to be a cowboy or an artist," Wendell says, reflecting on the origin of his curiosity with drawing and other artistic endeavors. He grew up on a dairy farm in central Wisconsin, and at age six was given a pony. "He kicked me in the leg and the decision was made."
Growing up in a small town, there were no art teachers, and art wasn't a subject that was offered in school. However, Wendell said he was "always drawn to art" and spent a lot of time during his childhood observing, drawing and doing paint by numbers. After high school, Wendell studied art at Luther College and later attended Bowling Green University. In between undergrad and graduate school, Wendell taught in public school in Wisconsin for eight years not far from where he grew up.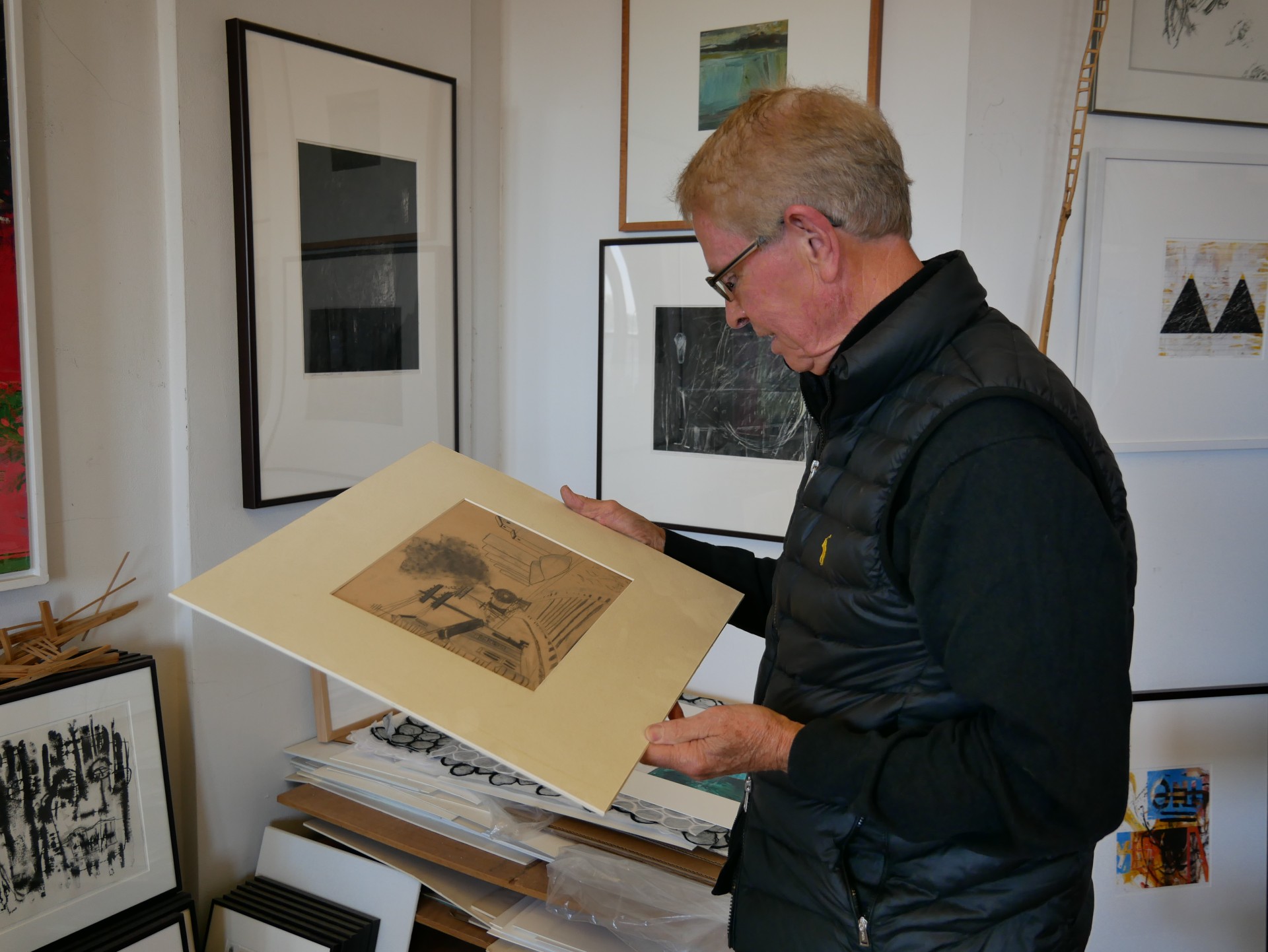 Wendell looks at an early childhood drawing
Later, while at Bowling Green, a nine-month sabbatical at St. Olaf College brought Wendell to Northfield, where he would later meet his wife, Beth. 38 years later, Wendell retired from the St. Olaf Art Department after a distinguished career of teaching his passion for art to hundreds of students. Wendell has retired from teaching but remains active as a professional artist, spending five days a week in his artist studio in downtown Northfield. His work is represented in galleries in Door County, Wisconsin; Minneapolis; and Des Moines. Wendell says of his professional career, "I feel like I have never worked in my life. I feel so blessed."
After arriving in Northfield, Wendell was aware of LBSA, but he became more familiar with the organization after his daughters volunteered to help out at LBSA when they were in high school. "When we adopted Mari and Kate (from China and Vietnam), we became more aware of the impacts on marginalized people." Motivated by an interest in helping people feel included, Wendell decided to approach LBSA approximately 12 years ago with an offer. "I hear you have an annual benefit. Can I donate a piece?" Of course the answer was YES.
A Win-Win Scenario
Since that time, Wendell has donated over a dozen of his works to LBSA. LBSA then auctions his art at LBSA events, like the annual Gala each December. All the proceeds go to fund housing and support services for people with developmental disabilities. Wendell is a great example of how members of the community find unique ways to share their talents and passions with LBSA, ultimately providing a win-win scenario for the volunteer/community supporter and for LBSA. Wendell feels joy that he is supporting individuals with developmental disabilities who have historically been excluded from society.
"I am so happy to do it. If I can support in any small way people who have been marginalized, then I feel blessed."
For LBSA, the benefit is receiving more than $40,000 from the sale of Wendell's artwork. These funds are needed to help LBSA bridge the growing gap between declining Medicaid reimbursement revenue and increasing operating expenses.
LBSA is grateful to Wendell for his years of support and sharing his artistic gifts to help LBSA continue its mission!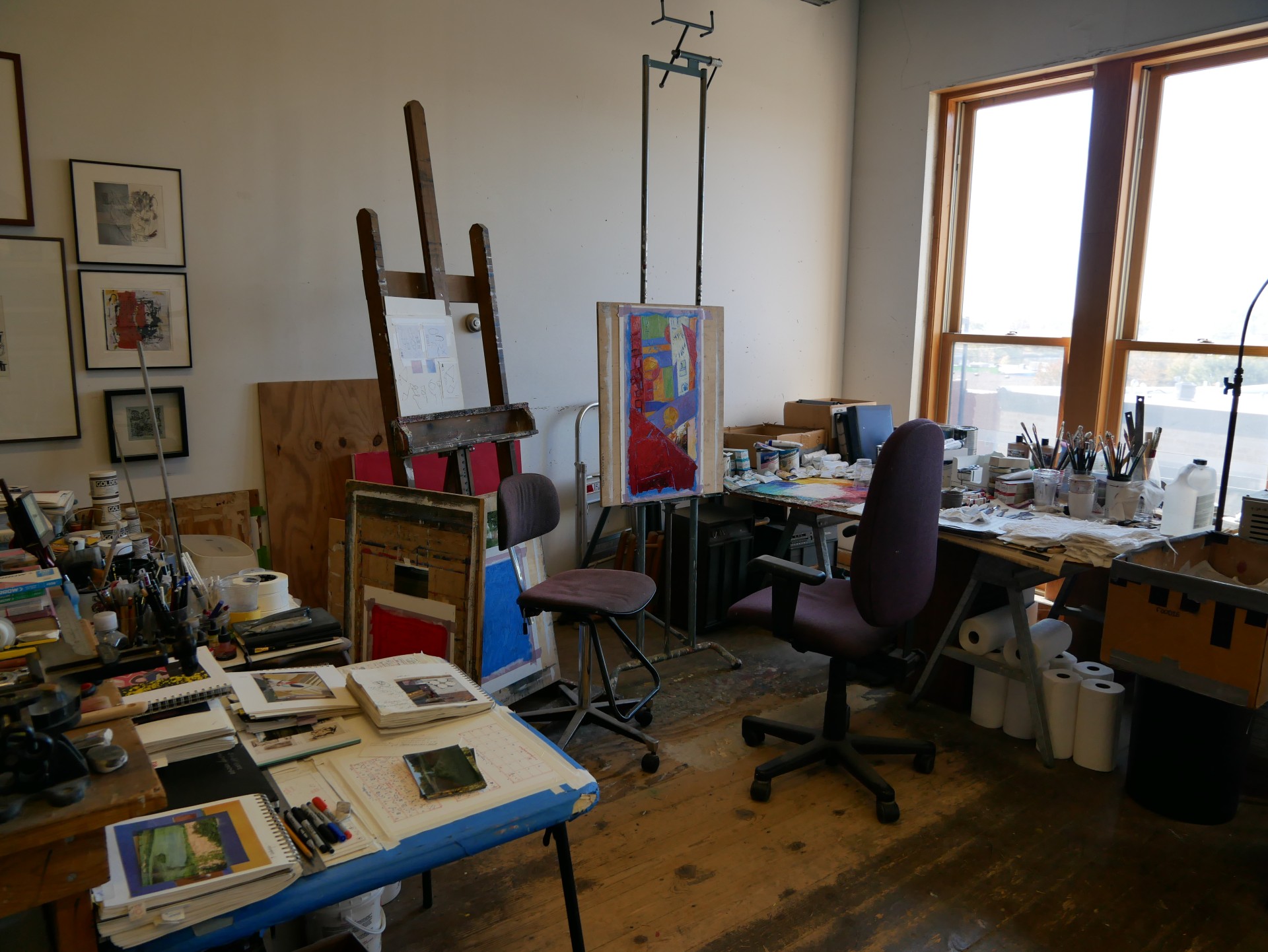 Wendell Arneson's studio