Meet Mags & Molly
"We do everything together. We've never been apart longer than two hours," says nine-year-old Mags, about her littermate Molly.
Mags and Molly are certified therapy dogs and are always on the go. Whether it's heading to therapy visits at Mayo Clinic or LBSA or attending weekly obedience and agility training, Mags and Molly travel a lot. They have even traveled overseas. "We love to travel. We just got back from Scotland with Mom and Dad (Susan Slater and Phil Armour)," says Molly. "Molly and I even won an agility contest when we were there," Mags adds enthusiastically.
Mags and Molly would each be a successful therapy dog on their own. However, when you combine each Morkie's unique personality and skillset they make an incredible pet therapy team. Mags describes herself as an introvert, while Molly claims she is more extroverted. According to their parents, these personality differences are evident during their visits. "Mags is very empathetic and feels what other people are feeling. She is very good with patients," says Susan.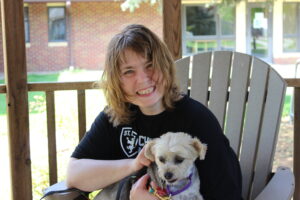 Phil says that Molly is more of a performer and loves "entertaining," which makes a visit from Mags and Molly therapeutic for both patients/clients and staff.
Mags and Molly became aware of LBSA when Susan and Phil's daughter, Gwyneth, began volunteering as an intern at LBSA during her senior year at St. Olaf College. Shortly thereafter, Mags and Molly became certified by the Alliance for Therapy Dogs and began pet therapy visits to LBSA. Unfortunately, the pandemic put a pause on visits for over two years – but in 2022 Mags and Molly have started visiting LBSA one to two times per month. "We are so excited to be back," barks Molly. Mags adds, "Molly and I know when we are going to LBSA. As soon as we turn that corner onto Third Street our hearts start beating faster and we both begin to bark."
Remarkable Connections
During pet therapy visits, LBSA clients have a chance to work on training Mags and Molly to do a variety of tricks, including "sit pretty" and "roll over." Clients also practice walking the two Morkies through cones and a variety of agility exercises, not to mention essential lap time with the two dogs. Every visit brings smiles to the clients and staff. This summer, Mags and Molly even demonstrated their skateboarding skills at LBSA!
Mag's and Molly's ability to connect with people is remarkable to Susan and Phil. They have witnessed dozens of special moments throughout the years. Susan says one of her favorite memories occurred at a hospital visit when they came across a staff member crying in the hallway. "The woman was standing outside a hospital room. Her mother was inside, and she was having a difficult time. Mags simply reached out and put her paw on her shoulder to empathize and support her." There is no question about the value of a visit from Mags and Molly to bring healing and joy to others.
It isn't all fun and games and it requires work and commitment to be a pet therapy dog. Mags and Molly attend weekly obedience and agility training. They also go through a recertification process annually. To Mags and Molly, the benefits clearly outweigh the time and effort they put into keeping their skills sharp. Their selflessness and commitment to bringing joy is apparent.
"We understand that being here (at LBSA) is not about us, but about the residents."