Meet Steve
"I've been around here since I was a kid."
Steve Brockton grew up in Northfield and first became familiar with LBSA as a child. His Aunt Margaret worked here, and he would often accompany her to LBSA events. Sometimes Steve would go with his aunt and take LBSA clients on outings in the community.
These early experiences at LBSA advanced Steve's interest in working with individuals with developmental disabilities. He started volunteering in a special education room at Farmington Middle School, and later, after high school in 2003, he started working overnights at LBSA.
Consistency is Steve's middle name and he continues to work overnights as a Senior Residential Counselor on LBSA's Oak Street campus. Not only has Steve continued to show up – night after night, for the last 17 years, but he does his job with competency and caring. So much so that Steve is the winner of this year's Spirit of Laura Baker Award. This award is given annually to one individual who best embodies the mission, vision and values of LBSA and the spirit of Laura Baker. You could say Steve is keeping it in the family as his aunt, Margaret won the award the same year that Steve started working at LBSA.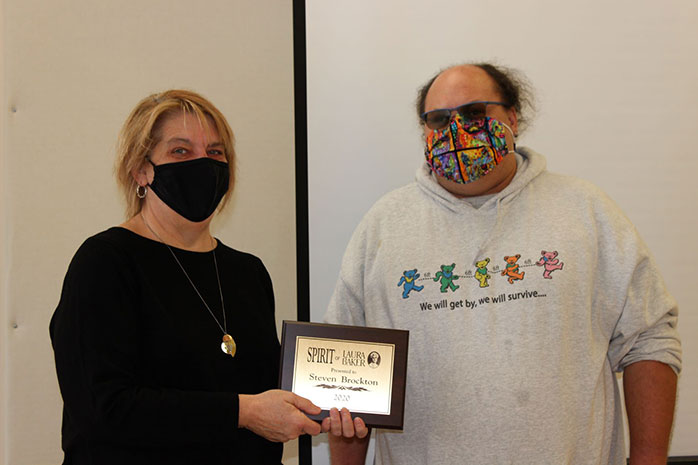 As an overnight staff person Steve starts his shift at 10 pm each night. "It's funny how clients come to recognize your face. Usually, when they see me, they know it's time to go to bed," he says smiling. During the night Steve checks on each client in the household hourly. He needs to remain alert throughout his shift and be ready to assist anyone that wakes up. Steve says most nights are quiet but occasionally multiple clients may wake up at the same time and he may have to address multiple client concerns and behaviors at the same time.
Since COVID-19 began, Steve has observed more disruption to individuals' sleep cycles. He attributes this shift to a change in routine for many clients. "They aren't going to work or to their programming during the day, so their sleep is off at night." Clients are also more isolated during the daytime because of visitor restrictions and limitations with being able to go out and about in the community.
Overall, Steve says his favorite part of the job is when you can teach someone something new or see them succeed. "It's gratifying when you see them succeed after trying and working at it." Steve adds, "Caretaking gets in your blood."
His Aunt Margaret retired two years ago after 47 years at LBSA. When asked about Steve's goals for the next 2-3 years, Steve says, "I enjoy this kind of work." When asked if he would be here longer than his aunt, he laughed and smiled.