Meet Holly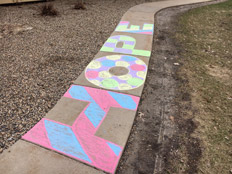 Holly Ciffra, LBSA's In-Home Services Director says, "You only get one life, so why not enjoy it?" Easier said than done during a global pandemic. It's clear that Holly lives these words and takes it one step further. Over the past year, Holly has been helping others enjoy their life during what has been a difficult year for so many. If you have spent time recently on or near LBSA's campus you may have seen inspiring artwork mysteriously appearing. "Once we moved to social distancing and everyone wearing masks, after a while I could see how people were struggling, and the toll it was taking on everyone with the uncertainty, sadness, loneliness and stress in people's eyes. Feeling kind of down myself, I thought, 'What can I contribute to LBSA that would be meaningful to others, hopefully lift their spirits and give them hope?'" The light bulb was lit. Early in the pandemic, artistic, affirming messages creatively done in chalk began to appear on sidewalks around LBSA's main building. "Hope." "Stay Strong." "Courage." As fall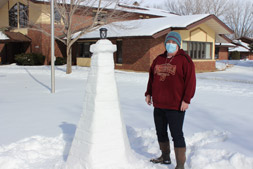 gave way to the cold, the messages continued. Sidewalk chalk art transformed to snow sculptures: a giant penguin, a Beacon of Hope lighthouse sculpture complete with a solar powered beacon! As spring arrived, so did a rock garden with painted rocks: "Love." "Community." "Together." The previously unknown artist is now revealed.
It should be no surprise that Holly found her way to LBSA. From babysitting, to running a daycare for 16 years, to working in senior care centers, Holly has spent most of her life providing care and support to others. Holly first heard of LBSA from one of her daycare moms who was working at LBSA. She recalls their conversations about how rewarding it was to work at LBSA. Over the years, Holly got more familiar with the organization by volunteering at LBSA's Dinner Theater. Her volunteer experience left her with a positive impression. "It was impressive how elegant the Dinner Theater event was, and I admired how much fun everyone was having." Finally, in 2017, Holly started working part-time at LBSA. Shortly thereafter she closed her daycare and began full-time, first as a direct support professional and then as the director for LBSA's In-Home Services. Holly says she enjoys making connections with clients and says it's important to her to feel like she is making a difference in people's lives. Even though the pandemic has been challenging for staff and clients at LBSA, Holly is always on the lookout for opportunities to turn lemons into lemonade. One example is a client Holly works with who has difficulty reading. "When stores in town started posting signs on their front doors this quickly became a fun adventure. We would work on exercise (being one of her current goals) by walking around downtown Northfield stopping at store windows to see what each sign had to say. At first, we read to ourselves, but that changed to taking turns reading a line out loud. Not long after we were taking turns reading signs." Holly says she was amazed at the change she witnessed. "She became more confident in herself; like she could do anything." Holly says another great part of working at LBSA is the camaraderie amongst staff. "Everyone seems to work together toward the same thing; not just to get clients what they need, but opportunities to be part of the community." She believes staff's focus on going beyond basic needs and working on behalf of clients to find opportunities for community and engagement is something that makes LBSA unique. It's also the reason she enjoys her work here. When asked if Holly is going to work at LBSA forever, she chuckled. "I might."
Congratulations to Holly Ciffra, who is the 2021 recipient of the Spirt of Laura Baker Award*!
* The Spirit of Laura Baker Award is given annually to one individual who best embodies the mission, vision and values of LBSA and the spirit of Laura Baker.