Meet Abby
"I'm hesitant to call it volunteering."
For Abby Grismer, volunteer work is not work. It is something she loves to do. "I feel like the sales pitch for volunteering is always to do it because you'll be making a difference in people's lives; but it's more like they are making a difference in my life."
Volunteerism runs in her family. Abby's mom has been very involved for years as a softball coach and board member with the Special Olympics in Rapid City, South Dakota. Abby started following in her mother's footsteps at a young age by helping on the Special Olympics softball team. In addition to Special Olympics, Abby volunteered throughout her high school years at the local hospital and helped out with events at her church. She acknowledges that of all the volunteer work she has done that "Special Olympics was always my favorite".
It's no surprise that soon after Abby arrived as a Freshman at St. Olaf a couple of years ago, she connected with the St. Olaf Special Olympics Club and began volunteering. Not long after that she got connected with LBSA's College Buddies program where she met Tonya. The amount of time she has spent with Tonya and her housemates has grown over the years from occasional visits to almost every Thursday during this current year. She has been busy encouraging other St. Olaf students to get involved with LBSA. In December, Abby recruited a group of her fellow student athletes to park cars at the LBSA Gala. She also plans to help strengthen what is the now the St. Olaf / LBSA College Buddies program. "That is next year's project", she adds with a smile.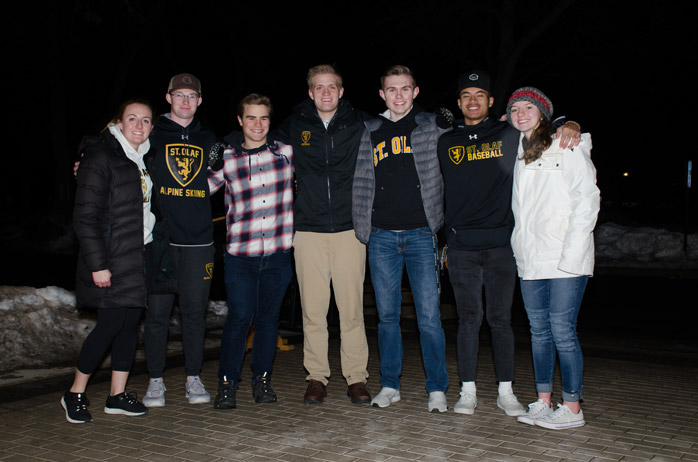 LBSA Household Director, Lisa Schmidt, has witnessed Abby's involvement in their house over the last several years and is impressed with her hard work and dedication. From Lisa's perspective, "She isn't just doing this because she needs something to put on her resume. She's doing this because she wants to, because she loves it!" Abby says she simply enjoys spending time with Tonya. Whether its playing UNO or doing art, Abby appreciates the time they spend together. "She is just so thoughtful and caring." Abby adds, "You think initially that people like Tonya might have the mind of a child. Then they do or say something that is so wise." Abby shares a story when she and Tonya were making valentines recently at the LBSA valentine making party. "Tonya kept grinning, telling me not to look." When Tonya handed Abby the card, it said, "Love is the best word that there is." Abby has a picture of the card on her cell phone.
Abby is finishing her Junior year at St. Olaf on a pre-med track with a biology major and a neuroscience concentration, although that is subject to change. Abby is considering working in the neurological field, perhaps as an occupational therapist. While the details of exactly what she wants to do is still being sorted out, who she wants to work with is certain. She wants to work with people with mental illness or developmental disabilities, perhaps specializing in helping people with autism or down's syndrome. She adds, "They are my people."
LBSA is fortunate to have young, dedicated, compassionate people like Abby in our LBSA community. As Lisa says, "The world would be a better place with more Abby Grismers."