Safety Technology for People with IDD in the Community
By: Kris Arneson, Public Safety Regional Account Manager, Vitals™ Aware Services
New safety technology can help support a loved one who has an invisible disability or vulnerability, such as autism, dementia or another intellectual or developmental disability (IDD). The Vitals™ App provides real-time digital ID by providing information that a parent or caregiver enters into the app. The Vitals™ App allows a public safety professional to instantly see information that helps them understand and communicate more compassionately and effectively with the person you love and care for. The app helps create safer interactions between first responders and the communities they serve.
For first responders, it also lowers risk and liability, while increasing positive encounters with community members.
Setup is easy! The participants or their caregivers create a digital profile, and the person with a disability or vulnerability wears or carries a beacon that sends a signal to nearby phones of first responders equipped with the app. When law enforcement comes within 80 feet of a beacon, they receive a notification about the individual, allowing them to see the user's profile and better support them.
Many news stories in the last few years feature children with invisible disabilities or vulnerabilities, including IDD, who have been hurt or killed by police officers. Afterward, it became known that the child had autism and couldn't communicate. One such case is the death of Elijah McClain as a result of police violence in Aurora, Colorado.
Development of the Vitals™ App to Provide Safety to Individuals with IDD
Steve Mase, chief technology officer of Vitals™, and his co-founders piloted this technology with the St. Paul Police Department, who set up focus groups with caregivers and families of individuals with disabilities. These families told him that they really wanted their kids safe when they left the house. Steve also met directly with officers who talked about their frustrations of not knowing how to deal with non-communicating people. The Vitals™ App is the result, which partners with local law enforcement as well as other organizations, including The Arc Minnesota, PACER Center and Autism Society of Minnesota (AuSM).
Fast forward. In St. Paul, Metro Transit police officers saw Marcus, a young Black man with autism, on the tracks of the light rail train system, a very dangerous place to be. They tried to communicate with Marcus (who was wearing headphones) to tell him to get off the tracks so he wouldn't get hurt. Marcus didn't respond. When they touched him to communicate more, he became reactive because he doesn't like to be touched. Marcus was injured slightly, upset and afraid of the police. As you can imagine, Marcus' mother was very concerned about this. When Vitals™ contacted her, she jumped at the opportunity for her son to have a Vitals beacon. Later, when Marcus had a minor incident in his St. Paul school building, officers were called – and because Marcus was wearing the Vitals beacon, they were able to effectively communicate and understand Marcus. All the information on Marcus' developmental disability was there for the officers to see immediately, enabling them to respond more effectively.
Vitals™ is a certified Minnesota Health Care Provider. Individuals and families may be eligible to purchase a Vitals™ Premium Caregiver App subscription or beacon using their waiver.
Learn More About the App
For more information about the Vitals™ App, visit thevitalsapp.com, where you can check out videos and information about this safety technology and learn why it's important for your community, especially if you have a loved one with an intellectual or developmental disability.
More Information and Support
LBSA is here to help you find resources and information that can help keep your loved one with an intellectual or developmental disability comfortable in the community. A FREE consultation from Family Navigation Services is available.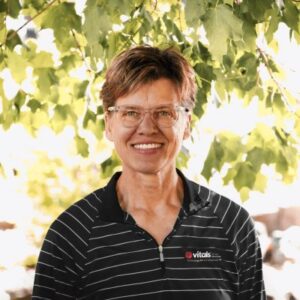 About the Author
Kris Arneson is the retired Assistant Chief of Police for the Minneapolis Police Department and is currently the contract manager for the Vitals™ App. Kris is hands-on and motivating and is valued by peers and colleagues for her strategic thinking, bold execution skills and guidance. She can be reached at arneson@thevitalsapp.com.